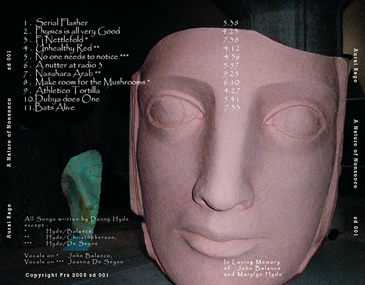 I have always made dark sounds, from the sounds created for "Windowpane", to the Timestretched digiridoos of "Further back and faster" for Coil,
From the Chopped up Speech of Nine Inch Nails "Gave up", to the Dark Intro of " "Closer" by Nin ( As used on the Film Seven).
From the Twisted re sampled sounds of The Black light district Album, to the Soft but haunting sin waves on "baby food" .
From the Twisted metal sounds on the coil remix of "Rush" - Depeche Mode to the Strings on a "Cold cell"
Dark sounds seem to be something I just happen to make.
But with so many audio re makers NOW around ( like Cyclobe etc,etc) I decided to to take yet another path and combine my Audio sounds with anything I fancied, and thus hope to create something Unique, out of it's time, maybe having no time.
I was determined to make each song ring with real feeling, also I wanted to break free of the chains us Sampler users have inflicted on ourselves .
At first at the beginning of sampling we sampled silly noises and made tunes, then we twisted noises and made tunes, now I feel we can twist soundtracks and make anything we want.

This resulted in a project which has taken the best Part of two years to complete, after all how to marry the Absurd with the dark
Anybody who heard my vocal samples in "Exploding Frogs"
Knows I have a sense of the absurd, so with this in mind the project began .
On this project You'll hear anything from Steven Hawkin waxing lyrically over getting wood, to george Bush giving 4th grade girls to the taliban.
But aside from the absurd there is an other element here.
The death of Jhon Balance has made the songs he sung ,all the more poignant.
One song had been pulled from the ether ( a lost vocal sung through an obliteration box, years ago , thanks to the power of the modern processors, was un processed and delivered clean to be used in a new song " Make room for the Mushrooms"
The other song " Fj Nettlefold" Is One of Jhons' last ever recordings, In fact I had been on at him for Months to sing it, no sooner was it done, then it seemed like he was gone.
Also on here is a haunting lullaby on incest , sung by Joanna de Seyne , " No one needs to Notice" a beautiful song sung about an absurd subject
So the album is not only Celebration of the absurd, but contains emotions of all Human experience .
May god have mercy on my soul.
D.h 2005
All Sculpture Created By marylyn Hyde


Hear Mp3 Snippets here